The Temporary Anchorage Device(TAP)/Maxillary Skeletal Expander (M.S.E.), appears to be a valid palate expander for adults.
Though not as effective as SARPE, the results are considerable.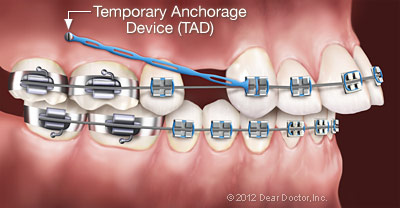 Essentially, TADS are small, screw-like dental implants made of a stainless steel. Their function is to provide a stable anchorage. To do its work, that force needs a fixed point to push against. 
There has been some recent chatter in the Orthodontic community about expanding in adults (non-surgically) using 'TADs' or Temporary Anchorage Devices. You can view the device 
here
. It is essentially the same expander used in kids, but it is anchored into the palate with surgical titanium 'screws'. Orthodontists have been reporting success in adults with this device.
Unfortunately, fewer than 1 in 1,000 orthodontists have any training in using a Maxillary Skeletal Expander. The procedure is extremely uncommon as of 2017.
However, it is rapidly gaining popularity in the United States and especially Germany
http://benefitsystem.events/fileadmin/pd...EN_web.pdf
It has been holding up well to research
https://cloudfront.escholarship.org/dist...f3p247.pdf
Quote: In the MSE group, the angulation of palatal sutures was 0.62 degree while it was 7.50 degree in the Hyrax group. (P< 0.01) The bone bending was 1.39 degrees in MSE group and it was 3.77 degrees in Hyrax group. (P<0.01) Molar angulation changes were 4.05 degrees in MSE group and 10.05 degrees in Hyrax group. (P<0.01). Estimated molar tipping in MSE group was 2.66 degrees and 6.28 degrees in Hyrax group. Conclusion: This study showed that the MSE appliance was able to produce a more parallel palatal suture opening, less bone bending and less molar tipping than the Hyrax appliance.
A video of the procedure
---
neomancr Wrote:Being fat is part of your personality. You made yourself fat and won't lose weight. Sorry bro. That's all you.
meomeowmeoww Wrote:Its better to be a hot girls tampon/wallet than an ugly girls bf.